Food is Medicine and Medicine is Food
Welcome to JuiceBabe, the vanguard of next-generation grab-and-go juice bars, conceptualized by the dynamic mother-daughter duo, Afifa and Sabrina. Merging Afifa's deep-rooted Middle Eastern culinary traditions with Sabrina's modern holistic approach, JuiceBabe is a testament to the belief that "Food is medicine and medicine is food." Our mission: Making health accessible. JuiceBabe promises not just a juice or quick fill, but a holistic experience fostering wellness for mind, body, and soul.
Babes On The Go
Experience seamless nourishment with Juice Babe's pioneering Grab-n-Go section, only at our Gaston Location. Designed for the modern-day health enthusiast, our entirely contactless checkout system eradicates the hassle of waiting, ensuring you get your nutrient-packed fix in a flash.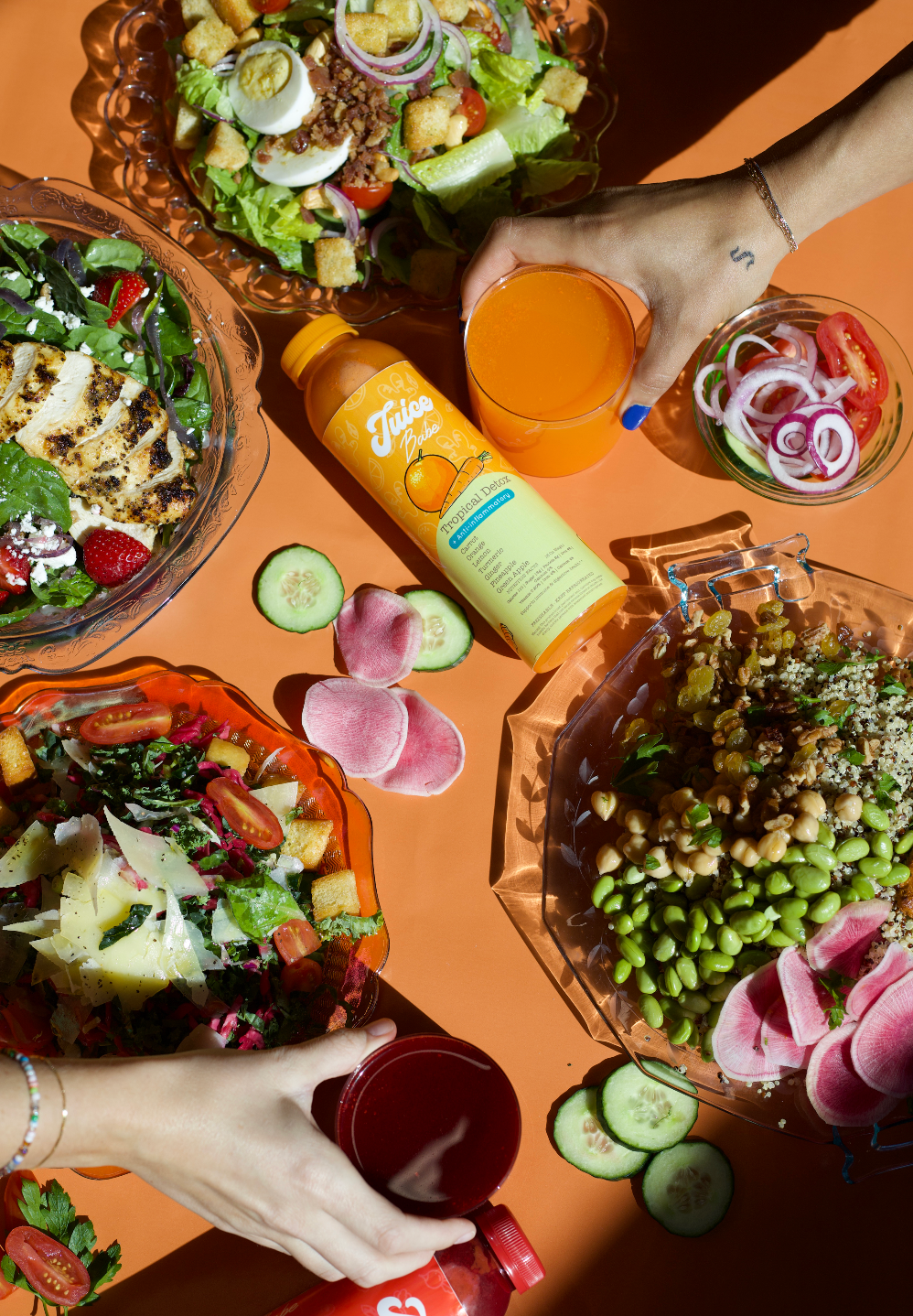 Start Your Transformation
Harnessing the finest quality ingredients, we're committed to fueling your day and metamorphosing your well-being. Let Juice Babe be your partner in becoming the most radiant version of yourself! We offer a variety of cleanses and can work to customize offerings to your needs.
Try Our New Naan Bites!
Introducing 'Naan Bites'! Crafted by the renowned Afifa, a chef whose culinary magic has left an indelible mark on the Dallas food scene, these Naan Bites are nothing short of legendary. Enveloping soft, pillowy bites that complements our vibrant spectrum of hummuses.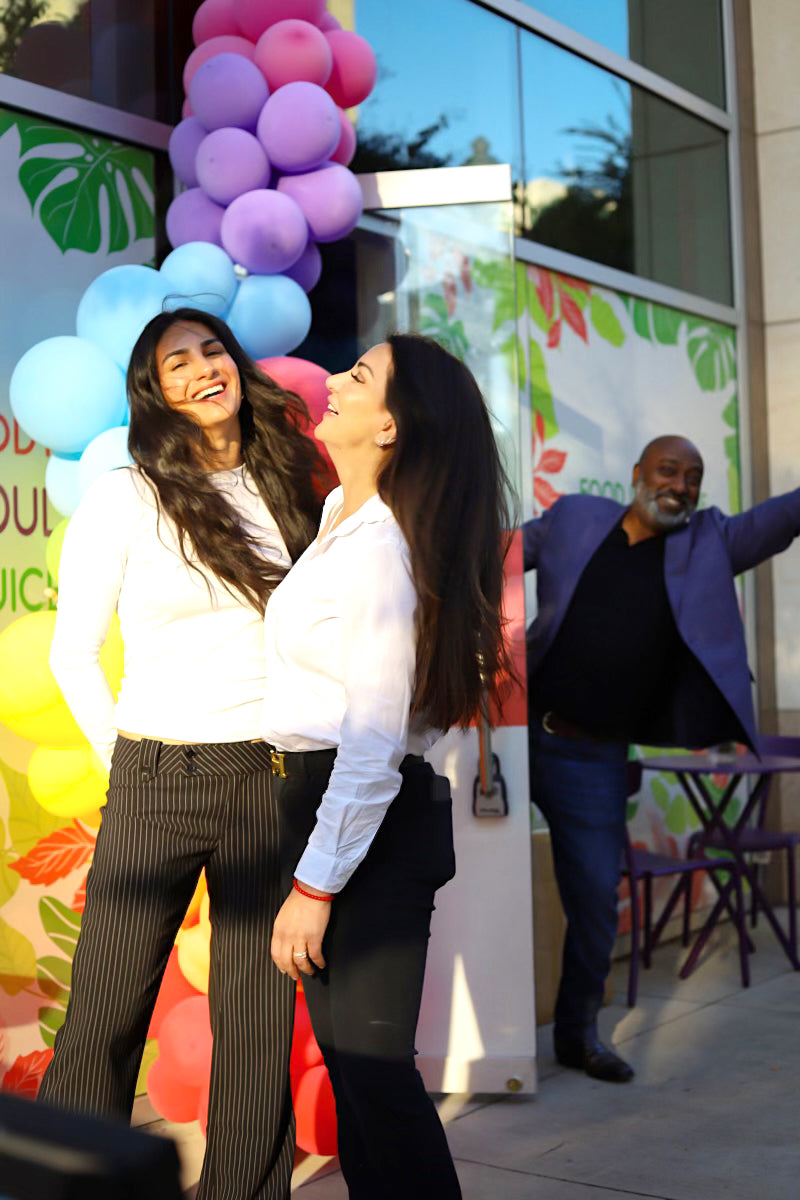 Mother Daughter Duo
Juice Babe emerged from the powerful bond and
determination of the mother-daughter duo, Afifa and Sabrina. Afifa, a resilient single mother who once fled war-torn Afghanistan, prioritized providing for Sabrina. Her culinary dream took flight when she courageously enrolled in Le Cordon Bleu after Sabrina's high school graduation. Facing challenges and naysayers, Nayeb's unyielding spirit remained unfazed, emphasizing her belief that women should fiercely chase their dreams without awaiting validation. It's no surprise that Sabrina, shaped by strong female role models and inspired by her mother's tenacity, joined the venture. Initially contributing to brand design, Sabrina's involvement deepened, drawing from her MBA studies and profound commitment to the joint venture. Juice Babe is not just a business; it's a testament to female empowerment, resilience, and unbreakable familial bonds.
"For me, if a woman believes in herself, she should not wait for people to tap on her shoulder and say, 'you can do it."
Testimonials
"After grueling shifts at the hospital next door, Juice Babe's to-go menu is a refreshing boon for us in the medical district. Amidst the sea of less-healthful choices, it's been a solace to have such nutritious options right on our doorstep. The impeccable taste and evident quality in every bite have truly transformed meal breaks for us nurses. Recognizing the importance of nutrient-rich foods for our demanding hours, Juice Babe is truly a nurse's best ally in health and nourishment."

"Trying one of Juice Babe's transformative cleanses revolutionized my gut health. The surge in vitality I felt was palpable, but the profound shift lay in my renewed relationship with food. Ever since, I've been intuitively gravitating towards healthier, nourishing choices. Thanks Juice Babe!"

"Since embracing Juice Babe's nutrient-rich foods and juices on the regular, the beauty transformations have been undeniable. My skin now radiates with a clear, natural glow, and my once fragile nails are noticeably stronger. Beyond internal health, Juice Babe's offerings serve as a genuine beauty elixir, rejuvenating one's appearance from the inside out. Truly, they are the holistic beauty secret we've all been seeking."